Okay, if you are on my page, you KNOW I did not come up with this myself-I copied it and Mc Linky'd it!! (But I'm glad you are here) If you haven't copied and pasted just as I did yet-click the cute little button and join the fun!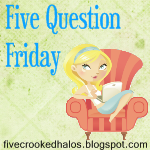 1. Have you ever hit an animal with your vehicle?
Yes!! We had just bought a VW Passat, and for the first few weeks, I must have hit a squirrel every day!!! Then one morning I hit a raccoon, and the streak ended there!
2. When you see a string on your clothes do you pull it off or cut if off?
Yes, to both!! If I can pull with out doing more damage, I pull. If not, it's getting cut.
3. Did you have your own room or share a room when you were young?
Had my own room-I am the youngest of 6, so I was a bit spoiled :). However, in my defense-my closest sister is 8 years older, and most of my sibs were adults when I was born.
4. Would you rather wear the same thing for the rest of your life or eat the same thing for the rest of your life?
Ooh, that is a tough one! Hhhmmm....I love to shop, and I'm a picky eater, so I guess I have to say eat the same thing for the rest of my life. Just gotta make sure it's something I like!!
5. What was your favorite TV show as a child?
Happy Days, and Laverne & Shirley. Tuesday night on ABC, 8 and 8:30. I was glued.
Now, I will see if I can add this McLinky thing. I'm new to this blogging stuff, I'm old and NOT a computer geek, so if I get it right, please take a second and clap for me! Thanks! xoxox