Many thanks to Mama M for yet another fun 5Q Friday! Clickety the cute button below to visit her blog!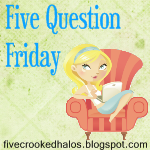 1. Do you sing karaoke? If so, what is your go to song?
Ooh-haven't sung karaoke in MANY years. I think the last time was around 1990, or 91. It had just come out and become very popular right after I met Tool Time, and it was a Friday Happy Hour-stay all night at the bar-kind of thing. Ouch, I'm dragging up some scary memories :)
2. What is your favorite coffee drink?
At home, I use fat free half & half, and a Caramel Splenda Stick. I am very spoiled-Tool Time brings me my cup of joe every morning before I get up. I'm a slow mover in the morning, so 2 cups are a must! If I'm out and spending ridiculous money for my joe-it's usually a skinny latte in hazelnut, or vanilla.
3. If you could choose your own name, what would it be?
Probably something mainstream, like Mary, Anne, or Catherine. I don't mind my name-I just dislike the fact that people constantly call me Leah, or Lay. Do you see an "A" in L-E-I-G-H? I see the valid spelling-pronunciation thing with Lay, but really, who would name a kid Lay??
4. Were you ever bullied?
Yes, in Junior high. A very large girl took offense because I would not tell her my grades. They were BAD, and I was embarrased. Shame on me-she unloaded alot of her big onto my small in the bathroom, and we both ended up in the principals office. Once again-digging up scary memories!!! LOL!
5. How often do you eat fast food?
Don't hate me for being honest, but if I eat fast food 3x a year-that is alot! Not that I'm all healthy and organic-I just try to stay away from it. However, I will confess that if I have the slightest bit of a queazy tummy (usually from one too many the night before), McDonald's is my new best friend.