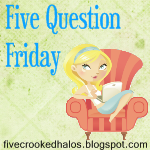 Wow, 2 blogs in one week-I'm getting better! Now if I could just come up with a creative post of my own.....Actually, I'm working on, the idea is there, I just need to find the damn time!
Anyway, 5 Q's, 5 A's coming right up...
1. Do you have an iPhone and, if so, how do you get apps and what are your favorites?
Oh yeah, and I can't live without it! Although I am probably one of the few people left who has the original iPhone. A new one will be mine very soon, though! BTW-when is the latest and greatest version due out? Pretty soon, right?
Favorite Apps-Google Voice, Amazon Kindle-(GET IT! IT'S FREE!), Grocery IQ, & Shop Savvy. Also love FB and Twitter app, but that kinda goes without sayin"...
My kids love Falldown, Jelly Car, and Action Potato. DO NOT tell them, but I am sadly addicted to them as well, but I suck at them, and the kids rock at them. So. Not. Fair.
2. What is your fondest memory of K-3rd grade?
Ooh, that's tough. My 3rd grade teacher was a cranky little biotch, so scratch that year. Kindergarden was only 1/2 days, and I remember one day we had the "afternoon kids" come in the morning, and I quite enjoyed bullying some boy out of my seat. First grade-not much to recall.
So that leaves 2nd grade.....Mrs Basille, such a nice teacher. Got it! I was Miss Valentine in the class play, "February on Trial". I loved that role, I loved the play, and I still have all the letters the other classes wrote to us about it.
3. What makes you cringe at the thought of touching?
Snakes. Cannot discuss further because I will get the heeby geebies.
4. If you could have any celebrity show up on your doorstep who would it be and why?
Female celeb-Sandra Bullock, and bring the baby please! I think she could be my new bestie, and I could watch that delicious baby while she ran to the grocery store for milk.......
Male celeb-Patrick Dempsey. Cannot discuss further because I will have to censor this blog.
5. What would you say is your best physical feature?
I have a great head of hair (if the weather is right). It is abundantly thick, has lots of natural wave, and so far is still my natural color. There is quite a bit of maintenance that goes with it though-I have an amazing hair stylist who is all that with a razor and thinning shears. I've tried to stray from her outrageous price, but no one compares.
Well, that's all, folks! I must get on with my day! But before I do, I gotta go link up, and hope you will do the same!
PS. I will be blog hopping looking for more fun iPhone apps!